Sad Demise of John Charter, farmer of Moco
John Charter was born in 1825 and his father, also John, died age 35 the following year. John senior farmed a portion of Moco Farm and was married to Susan/Susannah nee Knott. On her husband's death Susan took over running the farm, despite having six children aged 1 to 10 years. She is recorded as farmer in the 1841 Census.
Son John took over around 1846, when he married Ann Pettengell of Guilden Morden and in the 1851 Census he is farmer 16 acres. Susan had moved out and in the same census was living in Hay Street with her eldest daughter Elizabeth, who had married William Savage the blacksmith in 1840.
It appears that John struggled with his health, especially depression and by 1861, Susan had moved back to Moco to take on the farm again and is shown as farmer 24 acres and John was farmer's son. Bit of a putdown? Susan died in 1870 and could no longer support her son.
For the 1881 Census John was in the Fulbourn Lunatic Asylum after his attempted suicide. His wife Ann in the same Census was at Moco as farmer's wife. Son William born 1858 appears to have been running the farm, in the absence of his father and he died in 1890, described as of Moco in the burial register. The Charter family gave up the farm and widow Ann moved to live with a daughter in St Pancras, London, where she died in 1897.
For more details of Moco and the Charter family at the Farm see Moco Farm 
Inquest held on death of John Charter found hanging in a barn at Moco 1884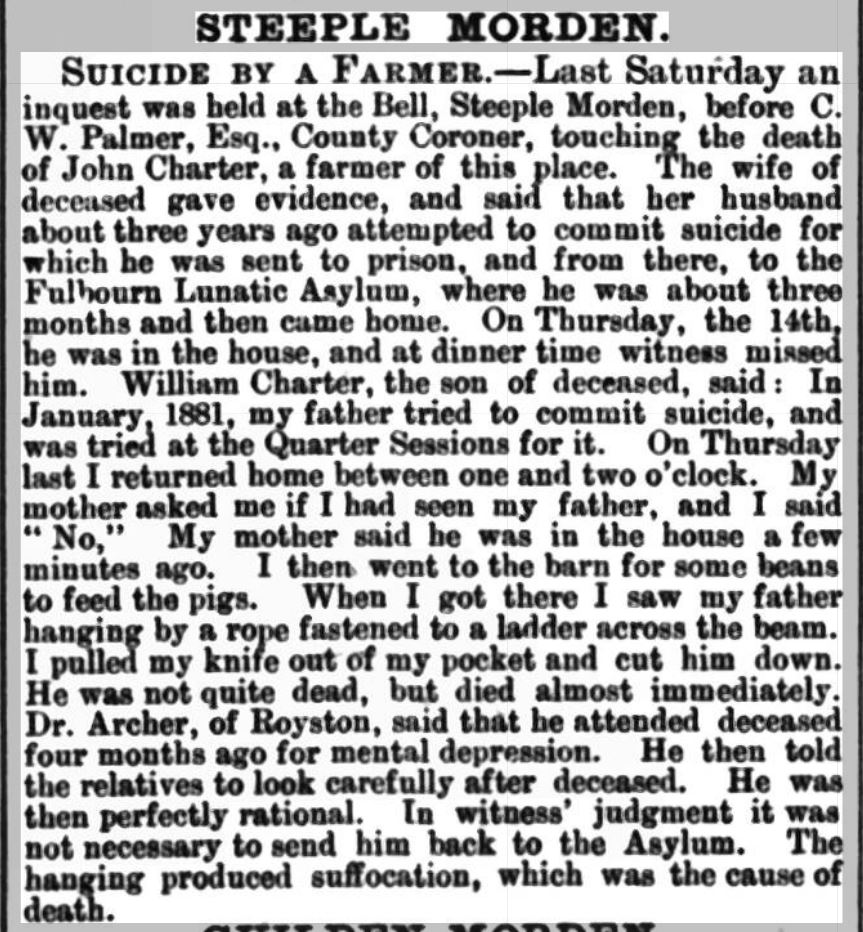 Click on image below to view. Click again to enlarge. Drag to view entire image.
Last Updated on October 28, 2022