99 Hay Street, Holme
Arthur Thomas Wright
Built by a builder for his own occupation, on a plot of land sufficiently extensive to accommodate a traditional builder's workshop and yard, this house was associated with three generations of the Wright family spread across almost 100 years. Arthur Thomas Wright, who came from Guilden Morden, had rented Orchard Cottage across the road for ten years, before he acquired this large parcel of land from the Steeple Morden Benefit Society on 12 March 1928. It had been part of a much larger holding bought by the Society at the Wimpole Estate dispersal sale in 1892.
One quirk of the transfer terms from the Benefit Society was that any buildings erected on the land had to be set back at least 25 feet from Hay Street. One wonders if this was to avoid further houses being built directly on the road, as had occurred in the past further south on Hay Street? The land, which Arthur Thomas acquired, included ownership of a track giving access from Hay Street to the land behind to those having right of way.
Arthur Thomas built a new house in white brick, probably completed in 1929 and it was named Holme after his wife's home village Runcton Holme in Norfolk. He moved in with his wife Ethel Marry nee Warren and their children Joan May Clare born 9 September 1919, Aubrey Warren born 24 August 1922 and Flora Margaret born 14 March 1925.
He went on to erect a workshop and part of the land became a builder's yard. In time he also became the village undertaker and was known for making a very nice coffin.
Aubrey Warren Wright
Aubrey joined his father in the business, which became A T Wright & Son, taking it over, when Arthur died in 1945. As for No 99, ownership passed to Arthur's widow Ethel May.
Aubrey married Aileen Ruby Mitchell in 1950 and for a time they lived in a small bungalow built to the rear of No 99, before moving to Ashwell Road and later moving back to No 99.
The bungalow became home to Ethel May, until she died in 1979, The bungalow was demolished in 1998 in preparation for the construction of 101 Hay Street by Arthur Thomas' grandson.
Recent Era
Aubrey inherited No 99 and at his death in 1998, it passed to Aileen his widow, who died in 2020 and thence to their sons Stephen James and Spencer Anthony. They transferred a small area of the land to 101 Hay Street and put No 99 on the market. It was sold on 29 September 2021 to Gary Malcolm Casey and Maxine Jane Casey, who began a complete refurishment and remodelling of No 99, which work was still in progress in Summer 2022.
More about 101 Hay Street is here.
Early Days - Wimpole Estate 1839 - Wright's Plot small part of these combined plots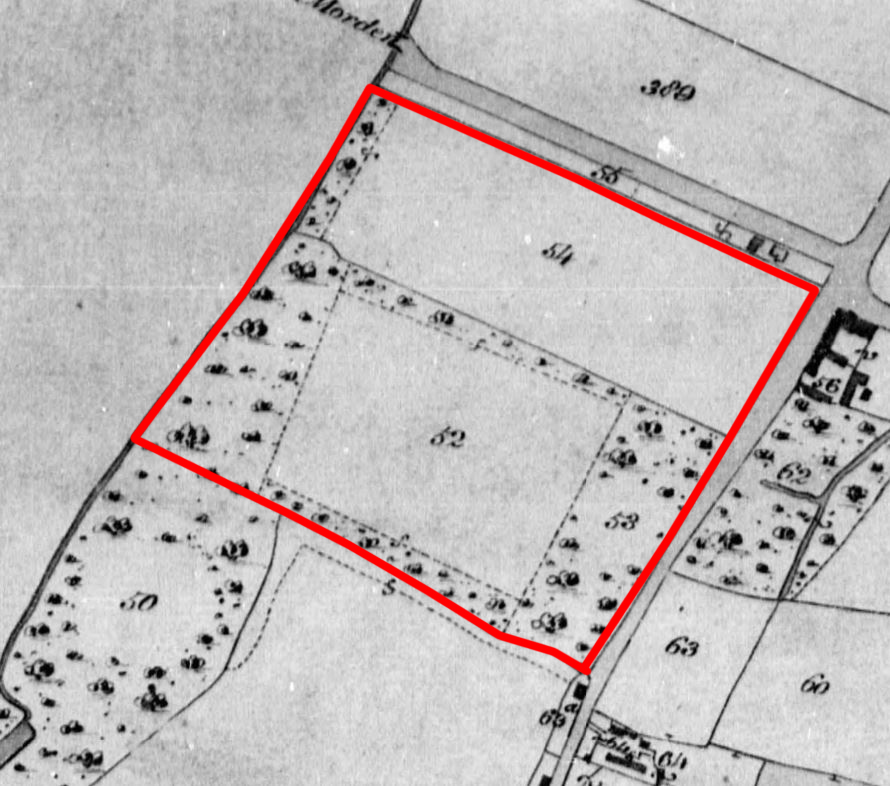 Benefit Society
When the Tithe Apportionment was updated in 1896 the Benefit Society had folded Plots 52, 54 & 53 into one plot, along with 50 & 51 and all 33a 2r 39p was let to John Franklin, who lived at Brook End and as he had no farmstead there, he built the small farmstead on the opposite side of Hay Street, known as Franklin's Farm.
Click on image below to view. Click again to enlarge. Drag to view entire image.
Last Updated on August 25, 2022