Shingay Quit Rentals 1760
A transcript of a list of Shingay cum Wendy Manor Quit Rents due Michaelmas 29 September 1760 and paid 28 February 1761. The various contractions and abbreviations in the original have been extended to allow for more comfortable reading. A scan of the complete original document is below.
Notable for the mention of Boggs Pightle, the small area of pasture land home today to the Scouts & Guides and of the erection of a messuage [cottage] at Brook End. The site where the cottage was built is known, although the cottage itself is no more. Find more about this cottage
Shingay cum Wendy Manor 28 February 1761.
Quitrents 10 years due Mich (last) 1760 at £2 0s 2d per annum
Quit Rents due from Miss Grace Gatward, Mrs Ann Marshall & Mrs Eliz Akehurst as under unto Lord Sandys.
Four acres of land by the annual rent of £0 1s 8d
Six acres & half of land by the annual rent of £0 1s 11d
A messuage & close of pasture containing two acres & several pieces & parcels of arable land containing by estimation nine acres & half by the annual rent of £0 11s 4p
To one acre of land in the fields of Guilden Morden by the annual rent of £0 0s 8d
To all those lands & woodlands containing 4a more or less lying in North-Brook-End in the parish of Steeple Morden by the annual rent of £0 4s 4d
A close of land upon which a messuage was erected in Steeple Morden & one acre of land & pasture at the Brook End & a close of pasture called Boggs Pightle & 4a land in Steeple Morden aforesaid by the annual rent of £0 10s 6d
And acknowledged to hold certain free lands at rent of £0 10s 9p per annum
Ten years on annually at Michaelmas last i.e.1760 at £2 0s 2p per year £20 1s 8d
Received 28 February 1761 of Wm Marshall Esq. & Mrs Akehurst (by the hands of Mr James Day) Twenty Pounds, One Shilling & Eight Pence, in full of the above Quitrent, £20 1s 8d
Signed Willm Scott steward to Lord Sandys
Original Document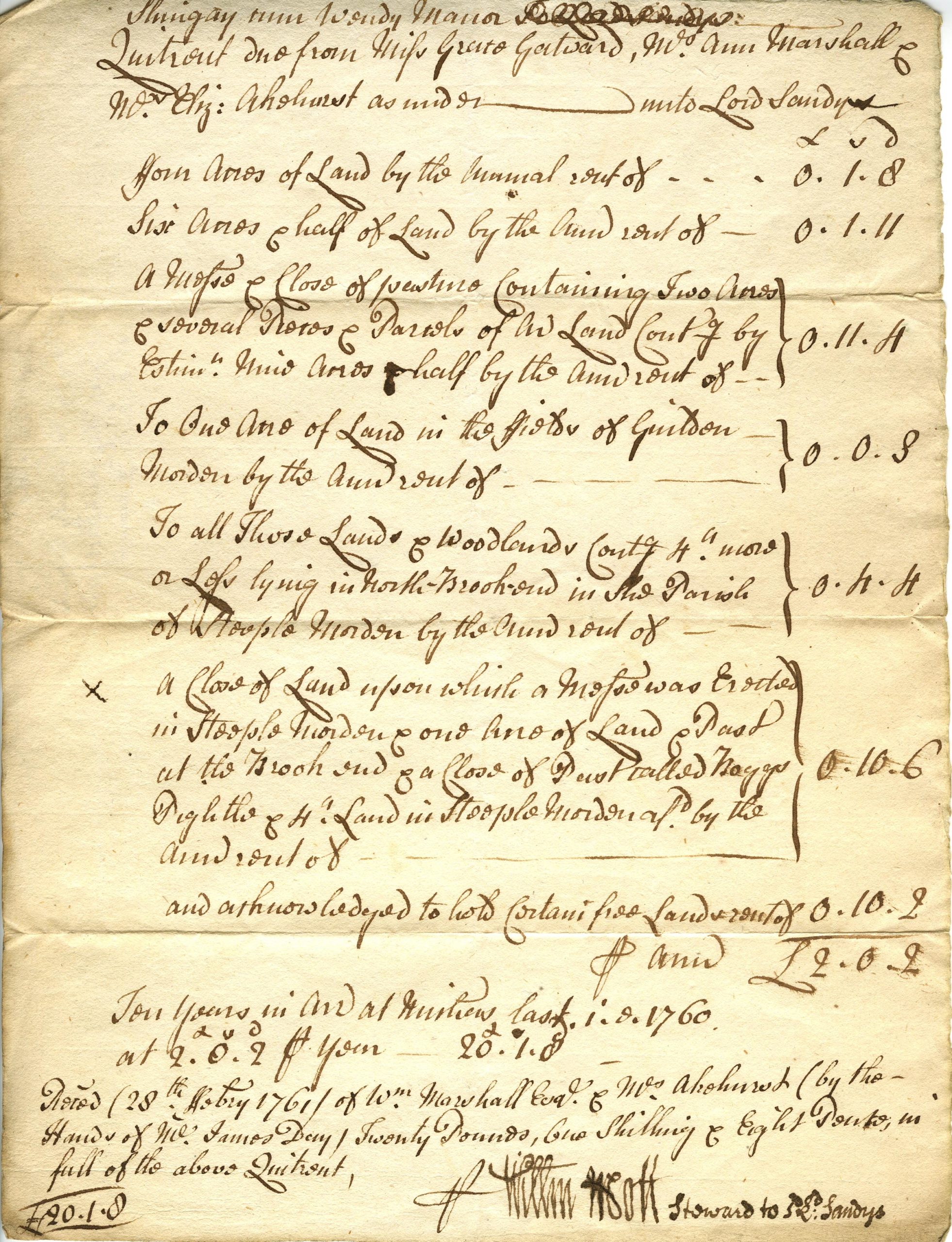 Explanation of Quit Rent
Quit rent is a payment imposed on occupants of freehold or leased land in substitution for performing services for a higher landowning authority, in feudal times a Lord and ultimately the Sovereign.
Under feudal law, the payment of quit rent  freed the tenant of a holding from the obligation to perform services, such as ploughing and other agricultural activity. Or it freed the occupier of the land from the burden of having others exercising rights that would affect the land. For example, by hunting across it, to the detriment of farming.
You were "quit" of carrying out the feudal services, having paid money in lieu.
Last Updated on September 8, 2020