The Little Wonder PH
Here is The Little Wonder, pictured in 2016.  It was built about 1862-3 as a beerhouse and continued until it closed in 1906. Since then it has been a private house and today it is 20 North Brook End previously known as Glenside.
The bay windows and slated verandah are Edwardian additions to the original Victorian house.
This is the history of land and house, both as a public and private house.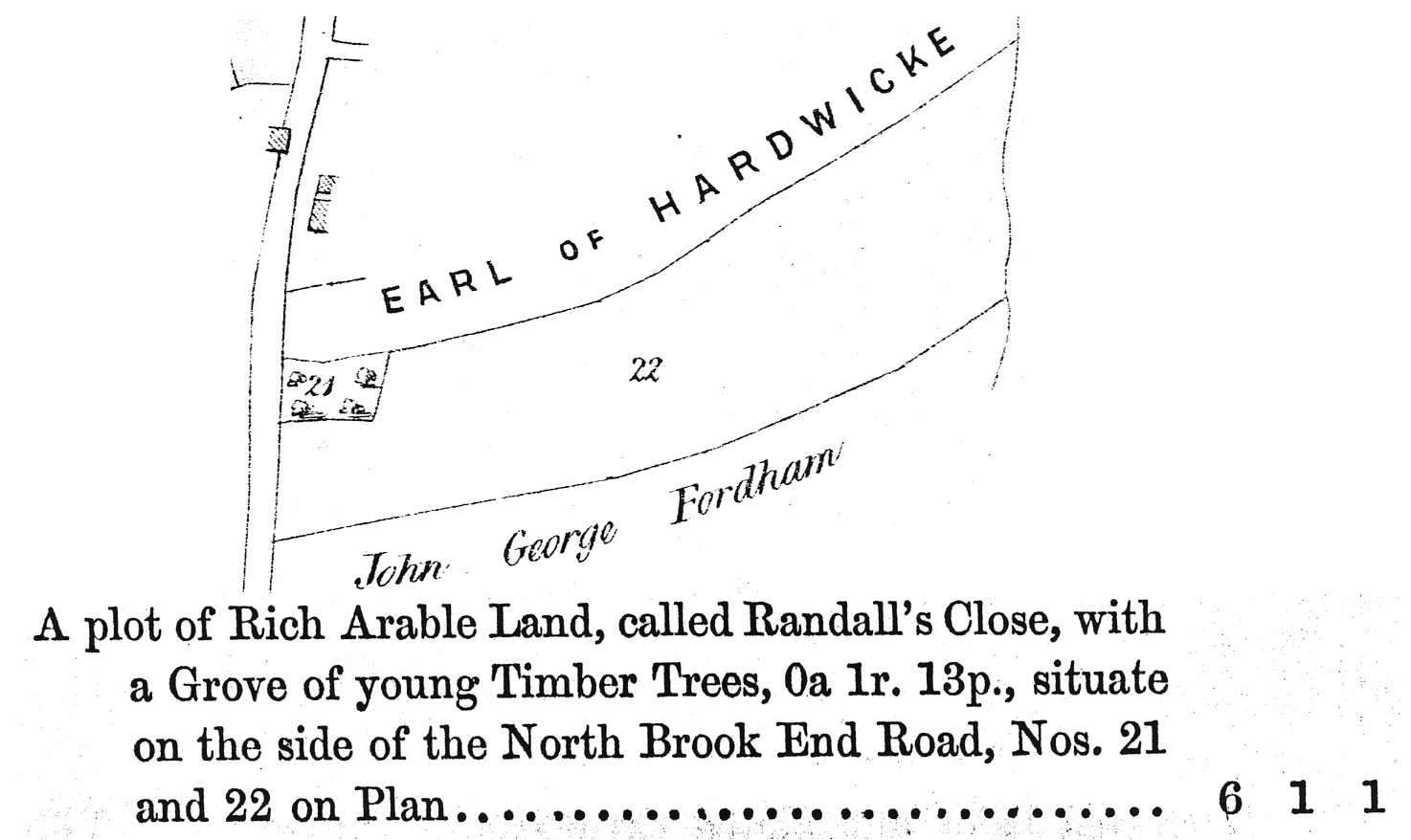 History of the Site and its Ownership
The Gatward family owned and leased various lands in Steeple Morden in the 1600s and early 1700s, notably leasing the Jesus College estate in the north of Steeple Morden. The marriage of William Marshall of Little Raveley, Huntingdonshire to Anne Gatward at Steeple Morden 30 July 1742 and subsequently the marriage of their daughter Lucy to Nicholas Wescomb at St Luke, Chelsea, London on 30 May 1767 resulted in the Gatward lands descending to the Wescomb family, who also became the beneficial lessees of the Jesus College estate. The Wescomb family (often written Westcomb) were never resident in Steeple Morden, but lived variously in Essex, Hertfordshire, London, Hampshire and latterly at Thrumpton Hall, Nottinghamshire.
Enclosure 1807
Lucy Wescomb was awarded the plot numbered 25 on the Enclosure Map as an old freehold inclosure Grays Close 1a 1r 38p in exchange from Jesus College. Adjoining on the north side was an old inclosure of Lucy Wescomb. There are no buildings recorded on any of her land here.
Tithe 1839
Lucy Wescomb is recorded as the owner of plots 299 and 300 described in the Apportionment:
Occupier Henry Theobalds
299 Grove woodland             0a 1r 13p
300 Randalls Close               5a 3r 28p
Total                                        6a 1r   1p
Number 300 is two old closes combined, comprising Grays Close as at Enclosure 1a 1r 38p and the adjoining old close owned by Wescomb, presumably already known as Randalls and by deduction measuring 4a 1r 30p.
No buildings are shown on this land on the map or in the description.
Estate Sale 1855
In 1855 the Wescomb family decided to sell their Steeple Morden lands and the auction was held on 18 July 1855 in Royston by local auctioneers Cockett & Nash. The plan and description of the two closes that were Tithe 299 and 300 show clearly that there are still no buildings and there remains a small area of woodland, with the larger part arable.
The purchaser of this particular piece of land is not recorded, although by 1864 John Phillips of the Royston Brewery was the owner of both closes totalling 6a 1r 1p and in 1897 ownership was transferred to the business J & J E Phillips Limited.
Private House
In 1907 a plot measuring North to South 2 chains [44 yards 40 metres] and West to East 5 chains [110 yards 101 metres] an area of one acre was created from the original close 299 and a small part of 300. In the title deeds it is said to have "formed part of two enclosures Tithe Nos 299 and 300, including a messuage, formerly a beerhouse."
This newly created plot of one acre, including the house, was sold by Phillips Brewery to Lucy Morley for £100. At some point the house was named Glenside and after Lucy died in 1936 her son Tom Pymont inherited the property.
The rest of Randalls Close Tithe 300 was sold to the Hunt family in 1907 and in December 1908 they sold it to Tom Pymont for £250. Pymont subsequently sold Randalls Close to William George Barnes on 14 August 1957 for £414 and his widow Ethel Charlotte Barnes sold it to Briers Farms in 1978, by whom it is still farmed today.
In May 2000 Michael William Berry of 20 North Brook End bought from Benjamin and Patricia Angela Briers a triangular piece of land carved out of the field behind the property and added it to the garden of No 20.
The Little Wonder
In summary, the beerhouse was built by John Phillips in 1862-3 and continued as a tied house until it closed in 1906.
After the passing of the Beerhouse Act 1830 there was a dramatic increase in the number of such licensed premises. The local magistrates controlled fully licensed premises, but to open a beerhouse you paid a small fee and received an automatic licence to sell beer for consumption on the premises. In rural locations beerhouses were often run in conjunction with other occupations.
This is a list of the various tenants over the years and what is notable, is the increasing velocity of the change of tenants, as the decades pass. Another feature, which is not apparent from this simple list is that most of the tenants came from "away". They were looking for a quiet life, retirement job or a simple means of earning a living? The reality of Little Wonder is that it offered none of those, except maybe the quiet life? Too quiet, by far!
| | | |
| --- | --- | --- |
| Period | Tenant | Notes |
| 1864-1871 | Samuel Jarman | also a butcher |
| 1871-1874 | Leonard Flint | |
| 1875-1880 | Mountford/Mumford King | |
| 1881-1883 | Elizabeth Brand | |
| 1883-1884 | Joseph Hill Handford | |
| 1884-1885 | James Maloney | |
| 1885-? | Henry Jennings | |
| 1887-1888 | William Wilson | |
| 1888 | George Pitt | |
| 1888-1889 | George Landys | |
| 1889-1890 | Albert Charles Ward | |
| 1890-1906 | Edgar Williams | also hay and straw dealer |
The End of the Little Wonder
With declining rural populations, it became policy to reduce the number of licensed premises in each parish and in 1906 the Little Wonder fell victim to this purge.
Last Orders at the Little Wonder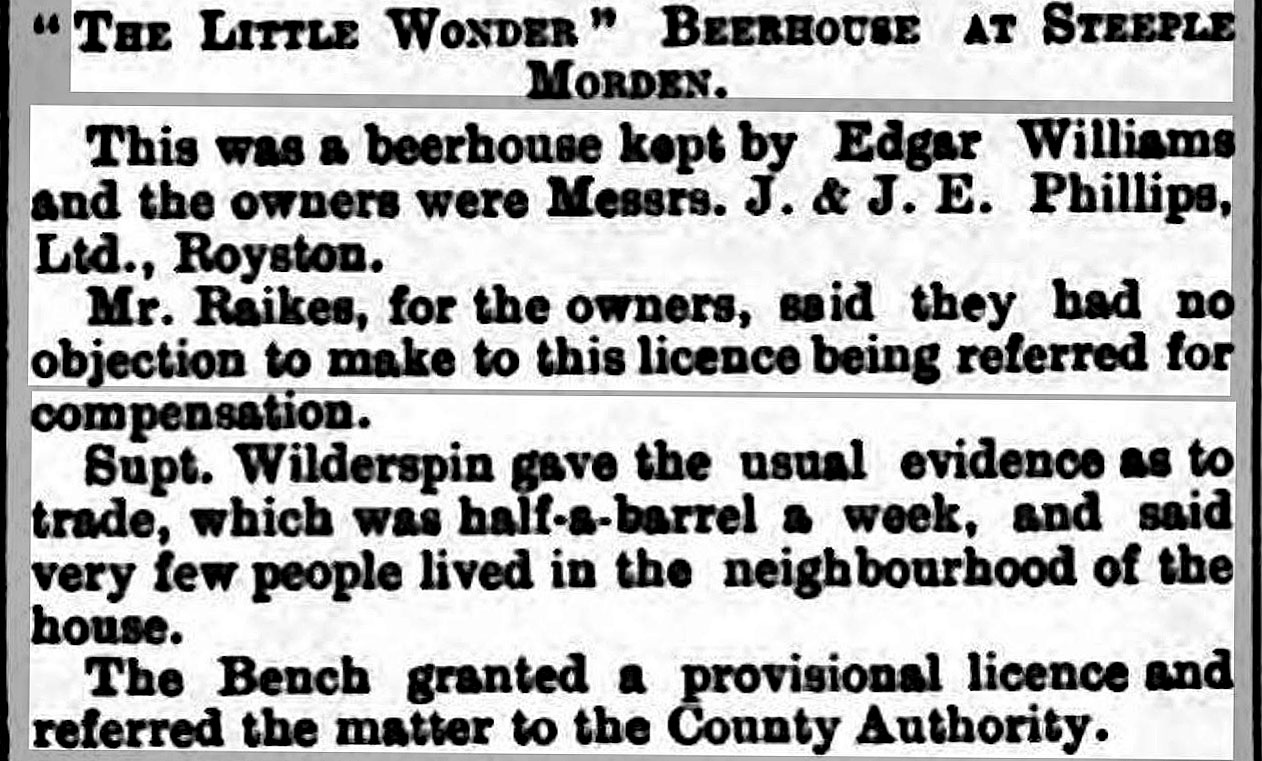 The Little Wonder Closes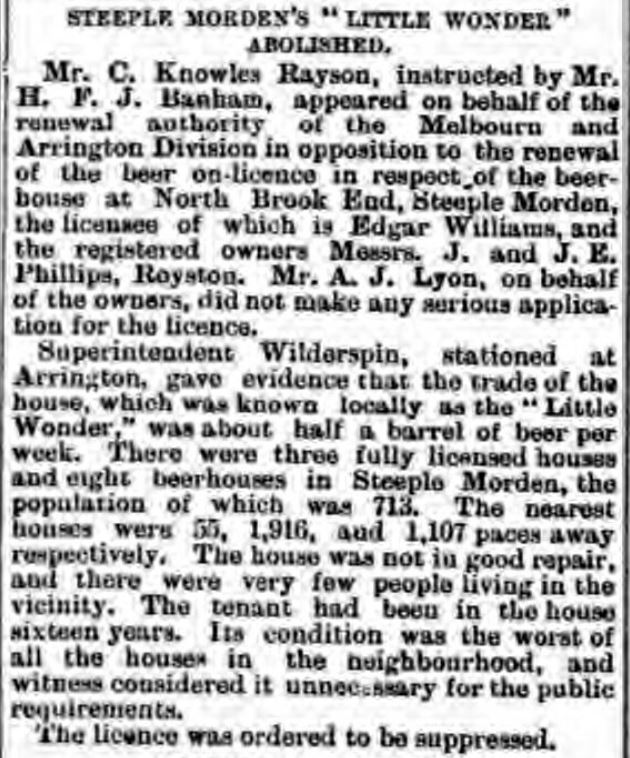 Click on any image below to view. Click again to enlarge. Drag to view entire image.
Last Updated on October 28, 2023