The Carriers PH, 78 Hay Street
Previously, No 54 Hay Street from 1969 to 1977
Summary
Built in the early 1850s as a double tenement with a bakehouse, it became a beerhouse in 1866 and a private house in 1955.
Origins
Originally, the small plot of land on which this property stands was part of Merry's Farmstead in Hay Street. At the time of Enclosure in 1816, a small strip of land had been taken from Hay Street, allotted to Chandler Merry and added to his farmstead and it was the southern half of this small strip, that became the site of the new property. Charles Charter had bought the farmstead from Chandler Merry in 1835 and sold this small building plot to William Medlock sometime between 1851 and 1861. Ir was constructed with a slate roof and it is likely the slates came by the new railway opened in October 1850.
William was a baker by trade, hence his erection of this double tenement with bakery. He originated from Tempsford, although reached Steeple Morden after living at Wrestlingworth with his widowed mother and unmarried sister. His new venture would have faced stiff competition from the well established Pain family bakery at The Cross. Plus his location in Hay Street was in an area not heavily populated at that time. Despite best efforts the business failed and he had to sell up in 1866 for the benefit of his creditors.
It is uncertain, if Thomas Warboys or William Pain Miller was the new owner, but whichever it was, welcomed David Kirbyshire as the new tenant and Kirbyshire converted the premises to a beerhouse. He was also a common carrier, which is how the name The Carriers that became attached to the beerhouse, which was also rather grandly known as The Carriers Arms. The Kirbyshire family remained tenants until 1945, except for a brief spell in the early 1900s when David Potton took it on. For the last ten years Leonard Bullard was licensee until the beerhouse closed in 1955. Dora Hayter bought it from Wells & Winch on 16 December 1955.
Today it is a private house, 78 Hay Street, and still known as The Carriers.
Modern History
For background, the Enclosure Map 1807-1817 and Tithe Map 1839 are included below, with the site arrowed, although no house is depicted as it had yet to be built.
The original plot of land was a small square and a further square of land was added to the garden in 1970, when Constance Margaret Hickman daughter of George Russell Blake Fordham, was disposing of what remained of the original farmstead, comprising Fairview 82 Hay Street and Rose Cottage 80 Hay Street. She sold this additional square on 17 July 1970 to Anthony John Riley. On the location plan below, the blue plot is the original and the pink the 1970 addition.
Planning permission was granted May 1982 for an extension and for a further extension in August 1988.
In June 1988, when planning permission was sought to add a new porch on the front of The Carrier, it proved necessary to clarify the extent of the plot and its boundary with Hay Street, as the front land had always been the tarmac forecourt to the beerhouse, which merged with the footpath. The appropriate piece of land was delineated and registered in its own right, as shown on the second location plan, and planning permission was sought to convert it from highway to garden land!
Owners
A list of owners, starting with the entire farmstead and then this property and small plot of land from Wiiliam Medlock onwards.
| | | |
| --- | --- | --- |
| Dates | Owner | Notes |
| 1813-1835 | Chandler Merry jun. | Entire farmstead |
| 1835-1869 | Charles Charter | Entire farmstead |
| ?-1866 | William Medlock | Land for Carriers |
| 1866-67 | Thomas Warboys ? | |
| 1867-1911+ | William Pain Miller | |
| 1903-1921 | Page family – brewers | As lessees |
| 1921-1932 | Wells & Winch | As lessees |
| 1932-1955 | Wells & Winch | As freeholders |
| 1955-1957 | Dora Hayter | Now private house |
| 1958-1964 | Edna J Carty | |
| 1965-1970 | Anthony & Diana Riley | |
| 1971-1978 | Iain B & Jean E Davidson | |
| 1979-1987 | George R & Sarah AOH Taylor | |
| 1988-2006 | Michael & Gillian M Pavitt | |
| 2006-today | Anne Hassall | |
Occupiers and Licensees
| | | |
| --- | --- | --- |
| Dates | Tenant or Licensee | Notes |
| ?-1866 | William Medlock | Baker |
| 1866-1901 | David Kirbyshire | Beerhouse keeper & carrier |
| 1901-1907 | David Potton | Beerhouse keeper |
| 1907-1933 | William Kirbyshire | Beerhouse keeper |
| 1933-1945 | Albert David Kirbyshire | Beerhouse keeper & farmer |
| 1945-1955 | Leonard Bullard | Beerhouse keeper |
| 1955 onwards | See list of owner/occupiers | |
Personal Memories
Some Memories of The Carriers, Rose Cottage and Fairview (now Fox Cottage) in Hay Street, by Geoff Kirbyshire. These were first posted on the Steeple Morden Archive page on Facebook in 2020. We are grateful to Geoff for agreeing to publication here.
My Mum and Dad Albert and Mary Kirbyshire kept the Carriers Arms pub which was a Wells and Winch house. They took it over from my grandfather William Kirbyshire and ran it for a number of years until I was born in 1950. I still have the old clock that used to be on the wall of the tap room which was the two RHS windows as you look at the carriers. The old boys back in the day always used to stop and look through the windows to see the time as they didn't have watches. My family have kept the clock going which must be getting on for 100 years old and it's on my wall today after one major restoration.
My family left The Carriers in that year of 1950 and moved into your house which was then known as Fairview. It was owned by Russell Fordham of the Ashwell brewing family who lived in a large house where the 4 houses to the right of The Carriers now are. My dad rented the house as a small holding which consisted of the yard with 2 barns one of which remains and has been restored (it was also the tractor shed) there were pig sties further up on the left hand side and a pig run up until you drew level with Rose Cottage. My aunt Gertrude and Walt Kirbyshire lived there at the time. Further up was the stackyard and then behind Rose Cottage a fruit orchard from where we sent fruit to Spitalfields Market. Behind the orchard was the top field now a meadow and owned by John Lunness. We also had some cows and of course chickens and in the year we moved in my dad bought a brand new Ferguson T20 grey tractor to farm with. He owned the field in Hay Street where the four bungalows stand opposite Andy Holts and also farmed one on the bottom corner of Trap Road and one on the corner of Cheyney Waters where there is still a small orchard. When we lived there we had no flush toilet (Dad had to make a trip up to the orchard once a week with the "Honey Bucket" and a spade. We had a tin bath that came in once a week from the barn and the water was heated in a small boiler. I had first dibs then mum and dad last by which time it needed a kettle full pouring in to warm it up a bit. The floor was brick laid straight on soil and the walls clay batt (probably still are) the roof was galvanised tin not the posh thatch that you have now. We had no heating in common with most people just an open fire. After we left the property in around 1970 to move down the road (ill health caused my dad to retire) it was sold and was bought by Frank and Marge Foster who partly renovated it. Tell you one thing it certainly makes you appreciate the houses that we live in today. Still you didn't know any different back then and just got on with it but I'll tell you that it was no fun if you needed the loo on a cold and windy night and you had to go out the back with a torch and sit with the spiders no fun when you were 7 and not very brave. Funny what a difference 60 years makes to everything around us!
Rose Cottage from 1954 to 1964 was rented out to a couple of tenants from what I can remember but I was very young. One of them worked for Derwent tv rentals and I remember my dad buying me my first transistor radio from him. This was probably around 1960 I can't recall the tenant's name at present but I am sure it will come back to me. The next guy Good was something to do with cars I remember Steve Parrish and I buying an old Triumph 2000 from him to rag around the old airfield.
Kirbyshire Family and The Carriers 1910-1915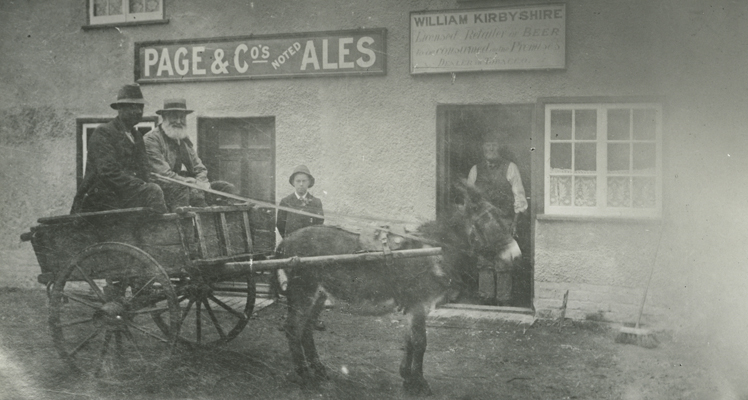 The Carriers 1930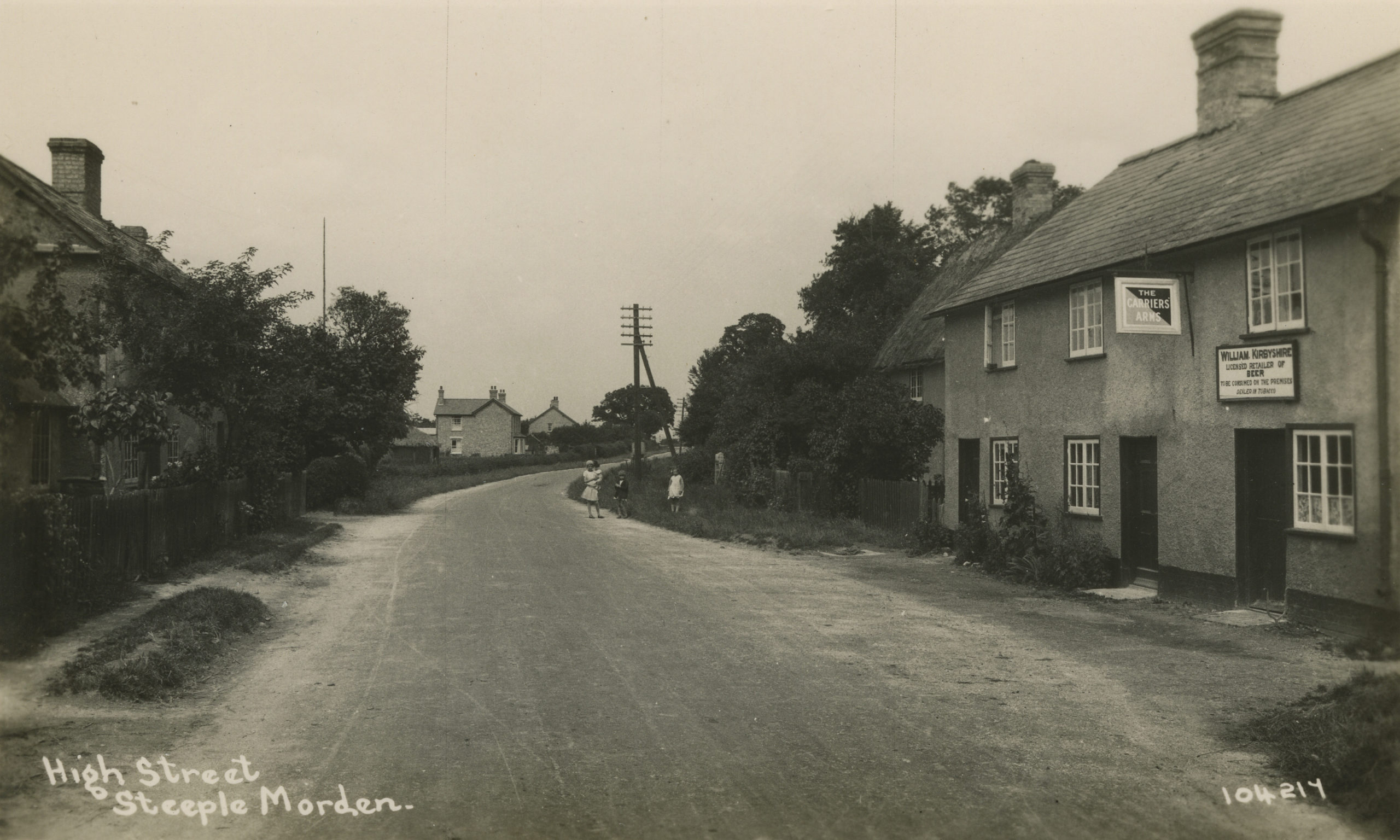 Last Updated on March 21, 2022