Plough Close Nos 1, 2, 3, 4 & 5
Apologies for the image, best described as a distant view of the entrance to Plough Close.
Somehow, after housing development along Station Road and Ashwell Road in the 1960s, a block of land was left landlocked at the rear. It was originally part of the 4 acres bought by John Cooper at the Mabbott sale in 1841. He built a beerhouse, which much later was named The Plough. E K & H Fordham bought the property in 1851 and having sold off various parts of the plot sold the house and remaining land to Alfred William Robinson in 1957, from whom his widow Sarah Robinson inherited in 1959. Sarah died 1966.
In 1997 the owner of this back land, Edwin Ernest Newbury sold it on 22 October to Amber Homes (St Ives) Ltd., but before this sale could be completed there had been two problems to overcome. The first was acquiring planning permission, which was only obtained in 1997 after a two year fight in the face of fierce opposition by the Parish Council and parishioners.
Newspaper Report December 1997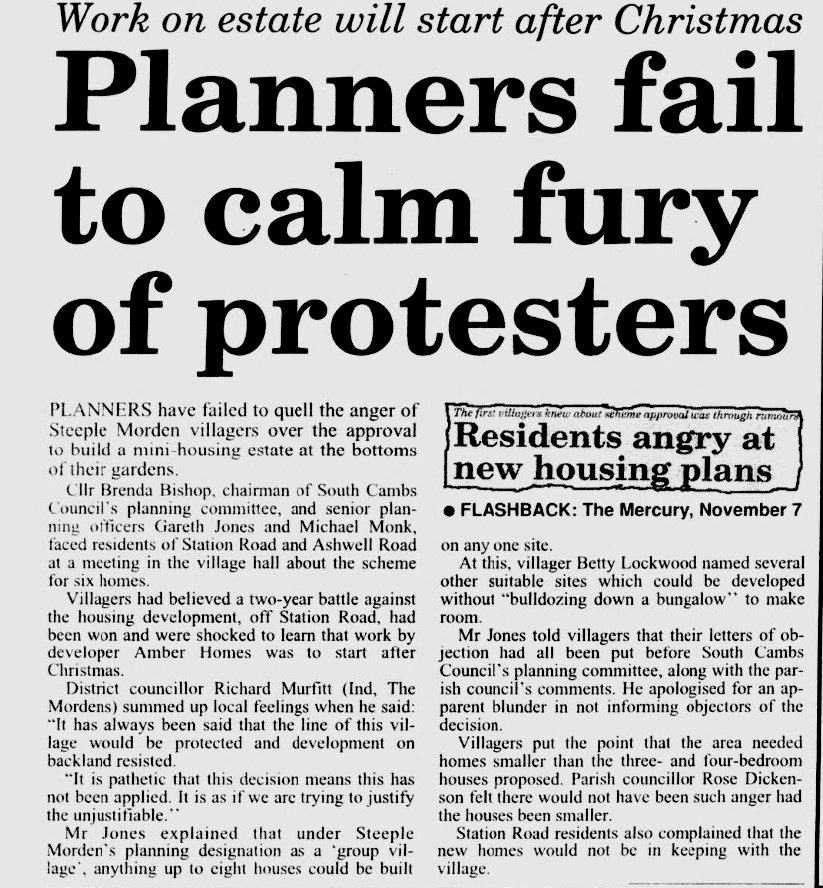 The Second Problem
The second problem was access and that was solved by Amber Homes acquiring No 46 Station Road, which was a bungalow built in the 1930s, similar in style to the adjoining No 48. It was home to Stanley Clarke and Jennifer Clarke. No 46 was demolished and access created for the new Plough Close. A newly erected detached house, replaced the bungalow, as No 46 Station Road and on the land behind, No 1 Plough Close was built, which became the new home of Stanley and Jennifer Clarke.
The plot of land containing the two bungalows, Nos 46 and 48 Station Road was Lot 8 acquired by Christmas at the 1841 Mabbott sale and subsequently owned by the Jarman family. Minnie Jarman owned this land in 1927. It was divided and the two bungalows built, although only No 46 was involved in the creation of Plough Close.
The New Houses
Building of these houses began in early 1998 and was completed between April 1999 and March 2000. The development and sales of Plough Close were:
No 1  Sold as a new build by Amber Homes to Stanley Clarke and Jennifer Clarke on 30 April 1999.
No 2  Sold as a new build by Amber Homes to Darrell Ernest Stanley and Claire Melanie Stanley on 12 August 1999.
No 3  Sold as a new build by Amber Homes to Pascal Leblond and Linda Christine Wade-Leblond on 27 August 1999.
No 4  Sold as a new build by Amber Homes to Robert Martin Buckland and Sylvia Ann Buckland on 17 March 2000 and registered in the sole name of Sylvia Ann Buckland in March 2015.
No 5  Sold as a new build by Amber Homes to David Ian Smith and Wendy Smith on 30 July 1999.
Click on image below to view. Click again to enlarge. Drag to view entire image.
Last Updated on March 23, 2023