The Town Houses
The Town Houses are central to Steeple Morden's past, both geographically and emotionally. They stand in Station Road, just across from the Church, a simple row of three, originally five, thatched cottages, built of timber frame with lathe and plaster; traditional south Cambridgeshire cottage construction.
They sit directly on the pavement and earlier were on the side of the road itself; as the 1904 photograph shows. They lack back gardens and have miniscule plots of land. Unusual? So what is their history?
The Listed Building description describes them as 18th Century. However, as one gazes at these cottages they appear to be older than 18th Century as suggested. They visibly ooze age.
Sadly, there are few parishioners left who remember them being called the Town Houses or sometimes the Workhouse. In the Women's Institute Scrap Book created in 1958 it said as a caption to a photograph "The row of thatched cottages by the Church, which are sometimes referred to as 'The Almshouses'. This seems to be quite erroneous. No trust or bequest of any kind can be traced. It is believed that they were built by Lord Hardwicke for his workers and let at 1s 6d a week.". Memories had already faded, although it is true that there is no record of any almshouse,  parish workhouse or general poor house in Steeple Morden.
What we see here were originally five small individual cottages, which in the past were called the Town Houses. Why? Because they were owned by the parish and were used to house the "impotent poor". The Statute of Legal Settlement 1547 was the stimulus for their construction, as that Act empowered each parish to erect cottages to house the impotent poor. Sturdy beggars on the other hand were to be branded or enslaved!
In those distant days, long before the Welfare State, each parish was responsible for supporting its own poor. Those who fell on hard times, if newly arrived in a parish, were soon shipped back to their parish of birth or previous residence. A parish only looked after its own. The Town Houses are where Steeple Morden looked after its own.
Built shortly after 1547 they served their purpose for almost 300 years, although no records survive of who was housed or when. There is little to tell us what lives have played out within those walls.
Then after all those years it was time for change and in 1835, following national legislation, the Royston Poor Law Union was created, which grouped together a number of parishes to centralise the management of relief for the poor and established a real Workhouse in Royston to accommodate the homeless poor. Suddenly, it was better that you go to a rather grim workhouse in Royston, constructed on modern lines, with segregation of the sexes and firm discipline as to daily life. Whereas, you had lived before reasonably independently in a little cottage provided by your parish, in your village. Did the impotent poor see that as progress? Did they even have a voice?
Whatever the rights and wrongs, there was clearly no longer need for the Town Houses,  and in 1838 the Royston Poor Law Union Guardians put the Steeple Morden Town Houses up for sale by auction. They were bought by Joshua Lilley, who lived at Bassingbourn, although he owned Cheyney Manor and Farm in Steeple Morden and he presumably saw the cottages  as an opportunity to house his labourers.
Joshua Lilley died in 1848 and his son George Lewis Lilley inherited the Cheyney Manor Estate, including these cottages. George sold the Estate in 1859 and Lord Hardwicke bought the cottages and added them to his Wimpole Estate. At the 1892 Wimpole Estate Auction the cottages were part of Lot 19 (shown as Lot 20 in Particulars) Pt 125 and 148 on Plan and each described as "Cottage containing 3 rooms with barn and garden". The Lot did not sell and was bought in.
At the final dispersal sale by Lord Robartes in 1911 the cottages were Lot 8 and described as "Attractive Cottage Property containing a block of five cottages, stud and plaster built and thatched, each cottage contains living room, kitchen and two bedrooms. Included in this Lot and situate on the opposite side of the road are large garden plots, no 148 on Plan, with outbuildings comprising barns and pigstyes".  Extracts from both the 1892 and 1911 Sale particulars are reproduced below, including location maps.
The purchaser in 1911 was Walter Charter, a builder of 38 Cherryhinton Road, who was the grandson of Charles Charter who had lived in Hay Street and left Steeple in 1871 to live in Chesterton, Cambridge.
Originally, the location of these cottages was known as Church Street, which ran as far as Church Farm Lane. However, in modern times this stretch has become part of Station Road and today the cottages are 7, 9 and 11 Station Road.
Listed Building
Listing details: Grade II since 7 February 1980
Row of three cottages, originally five. C18. Timber-framed and plastered, plastered plinth. Thatched roof. One storey and attics. Four eyebrow dormer windows; six casement windows and three boarded doors.
Cottages for Sale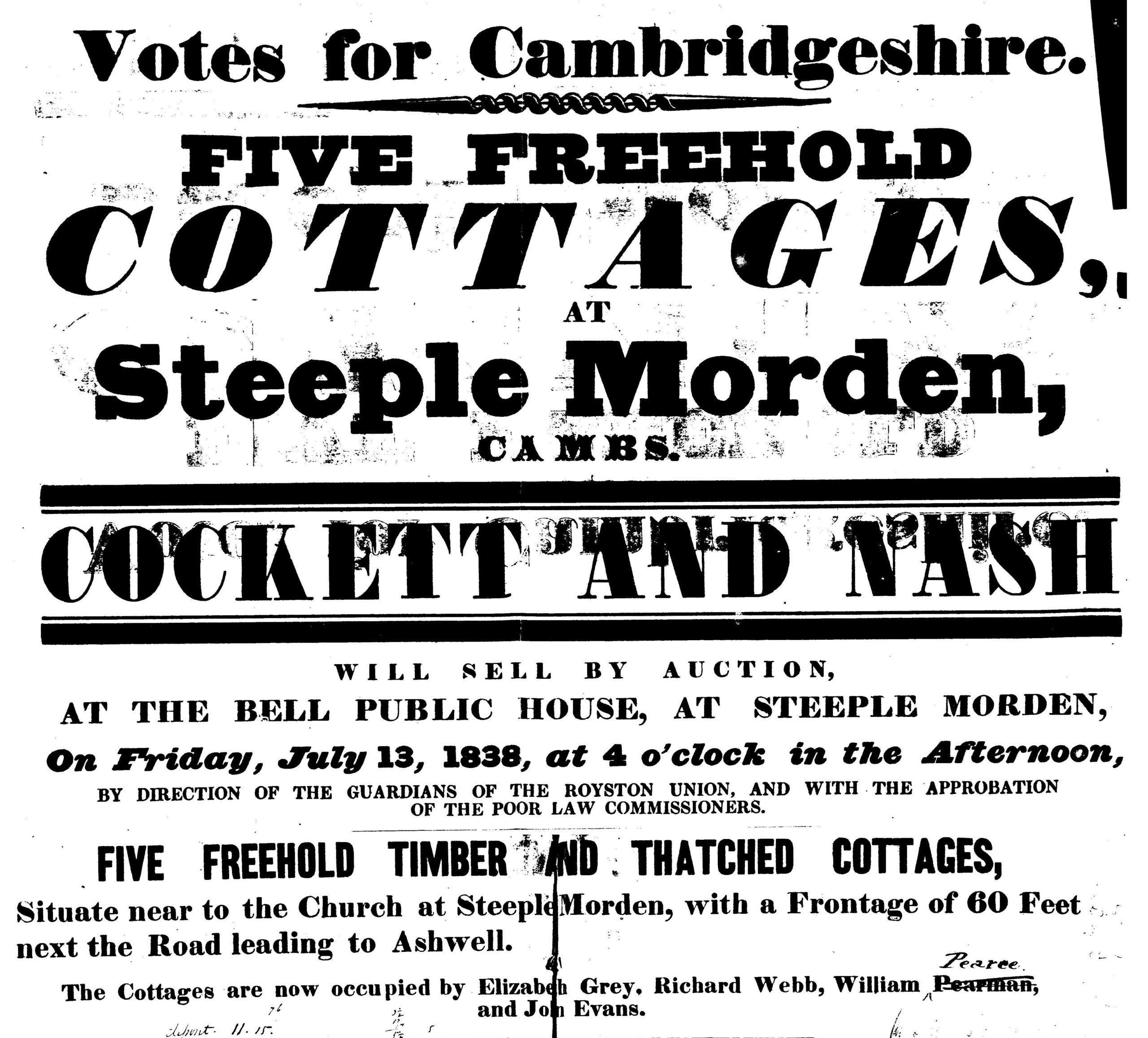 Tenants from 1838 onwards
There are no records of occupants prior to 1838. It is possible to compile a list of tenants after that date, although it is not complete and generally individuals cannot be assigned to specific cottages.
This is a listing of heads of households and does not show members of their families, resident with them.
| | | | | | | |
| --- | --- | --- | --- | --- | --- | --- |
| 1838 Sale | 1839 Tithe | 1841 Census | 1851 Census | 1861 Census | 1871 Census | 1871 Rental |
| John Evans | John Evans | John Evans | John Evans | James Jarman | James Jarman | James Jarman |
| Elizabeth Grey | & others | Thomas Evans | William Kirbyshire | William Kirbyshire | William Kirbyshire | William Kirbyshire |
| William Pearce | | William Pearce | James Ball |  Thomas Ball | David Gray | David Gray |
| Richard Webb | | Richard Webb | Sarah Webb | Richard Webb | Thomas Evans | Thomas Evans |
| Void? | | Elias Morris | William East | John Jackson | John Jackson | John Jackson |
| | | | | | | | |
| --- | --- | --- | --- | --- | --- | --- | --- |
| 1881 Census | 1891 Census | Rooms | 1891 Sale | 1901 Census | 1911 Census | 1911 Sale | 1925 Tithe |
| Edward Jarman | Edward Jarman | 2 | E Jarman | Void | William Miller | William Miller | D Potton sen |
| James Pateman | James Pateman | 2 | Void | Albert Wade | Albert Wade | Albert Wade | & others |
| William Gray | William Gray | 2 | J Pateman | James Pateman | Stephen Pearce | Stephen Pearce | |
| Jane Webb | George Webb | 2 | Wm Grey | Stephen Pearce | Francis Webb | Francis Webb | |
| Maria Moss | Maria Moss | 4? | Geo Webb | Void | Amelia Knott | Amelia Knott | |
Click on any image below to view. Click again to enlarge. Drag to view entire image.
Photographs. Sale Particulars and Maps
Last Updated on May 6, 2023