The Sad Demise of John Finkell 1821
Press Report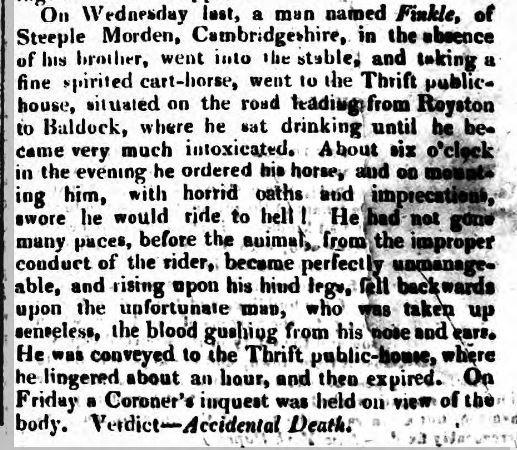 Transcript of Newspaper Report
Globe Newspaper Wednesday 11th April 1821
On Wednesday last, a man named Finkle, of Steeple Morden, Cambridgeshire, in the absence of his brother, went into the stable, and taking a fine spirited cart-horse, went to the Thrift public-house, situated on the road leading from Royston to Baldock, where he sat drinking until he became very much intoxicated. About six o'clock in the evening he ordered his horse, and on mounting him, with horrid oaths and imprecations, swore he would ride to hell! He had not gone many paces, before the animal, from the improper conduct of the rider, became perfectly unmanageable, and rising upon his hind legs, fell backwards upon the unfortunate man, who was taken up senseless, the blood gushing from his nose and ears. He was conveyed to the Thrift public-house, where he lingered about an hour, and then expired. On Friday a Coroner's inquest was held on view of the body. Verdict – Accidental Death.
The man named Finkle – his background
The man was John Finkell, which is the more common spelling of his surname and following the accident on Wednesday 4 April 1821, he was buried at Steeple Morden on Saturday 7 April 1821 and described as "of this parish" and age 36.
John was born 1785 in Steeple Morden and married Sarah Harvey of Ramsbury, Wiltshire at Steeple Morden in 1811. There were no children of the marriage and after John's death Sarah married Thomas Hammond in 1823.
John's brother was Thomas Finkell, who farmed Lower Gatley Farm as tenant of the Earl of Hardwicke. He gave the farm up in 1844 to a new tenant John Stock Clarke, who had married Maria Finkell, the youngest of Thomas' five daughters.
Last Updated on October 22, 2020