Franklin Family
The Franklin dynasty in Steeple Morden was relatively short lived, although influential.
John Franklin was born 20 November 1840 at Alconbury Weston, Huntingdonshire to John & Ann Franklin. John senior was variously described as a publican and agricultural labourer. John junior was living at home with his parents at the time of the Census in 1841, 1851 and 1861. The 1861 Census was taken 7 April 1861 and by 16 October 1862 he was recorded as farm labourer resident at Guilden Morden, as on that day he married Mary Ann Theobalds of Steeple Morden, at the Independent Congregational Chapel at Guilden Morden.
He had married relatively well, as Mary Ann's father William Theobalds of Brook End, Steeple Morden was by trade a carpenter, living in a comfortable house at Brook End. Willam acquired a little land and by 1861 felt able to describe himself as a farmer with 12 acres and employing 1 labourer. John Franklin arrived on the scene in 1862 and it appears that he and Mary Ann settled in at the house at Brook End and presumably the new son-in-law played a part in the farming enterprise?
The aerial photograph above shows the house in Brook End today. It is at the bottom in the middle of the image and is 9 Brook End.
The modern entrance is from the east (right) and seen as a tarmac drive. The house is no longer visible in summer from the road and the entrance from Brook End resembles a tunnel of trees and foliage.
The original entrance was from the north (coming from Bogs Gap), along what now appears on the aerial view, to be a green lane.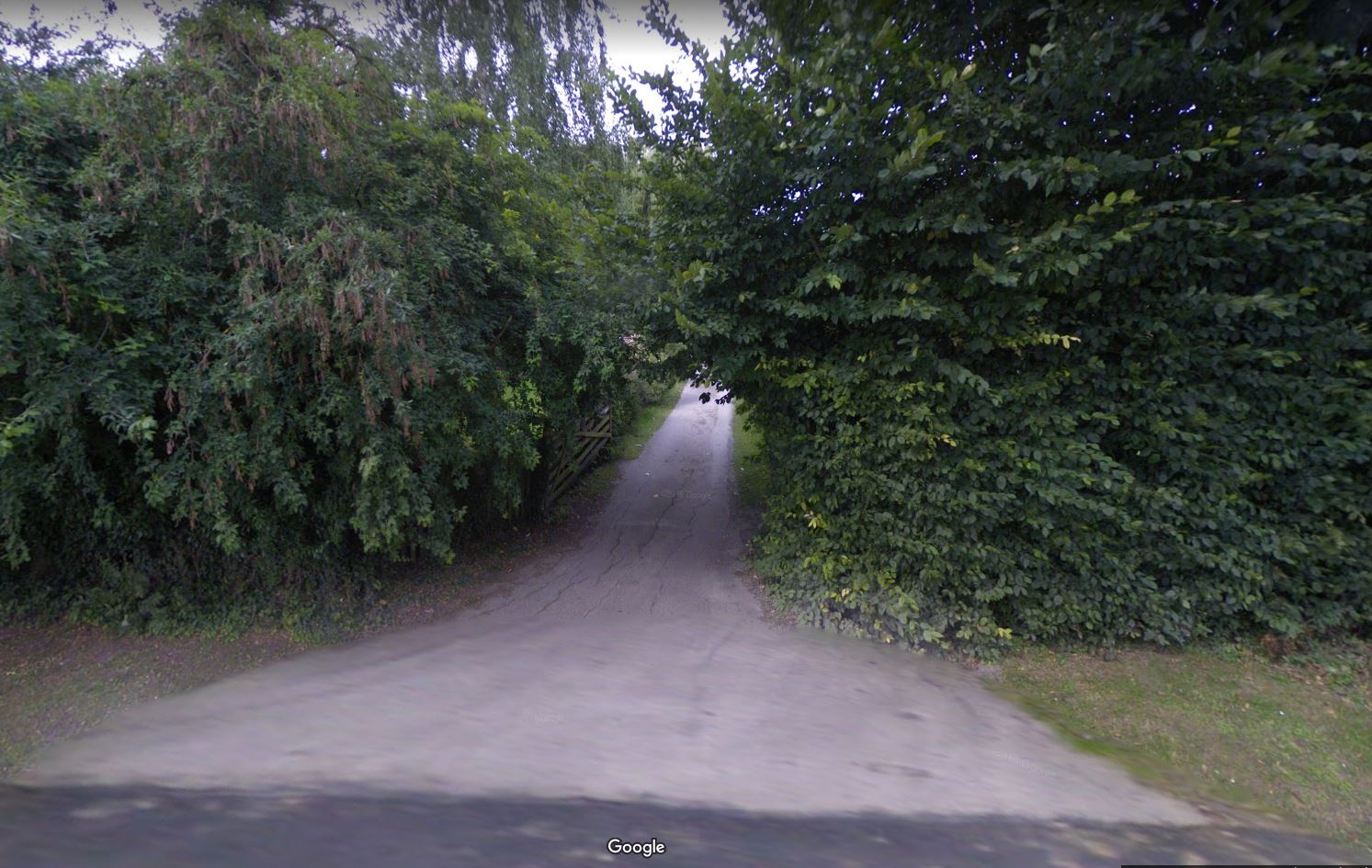 This is the original entrance to the Brook End house, today it is the disused back entrance, except a public footpath runs up the right hand side and out across the meadow, with Cheyney Bury on your left, and through to Cheyney Street.
Approaching from the direction of Bogs Gap, this is the view with the entrance lost in trees. At that point, the road turns sharp left, past Brook End Cottage and over Cheyney Water.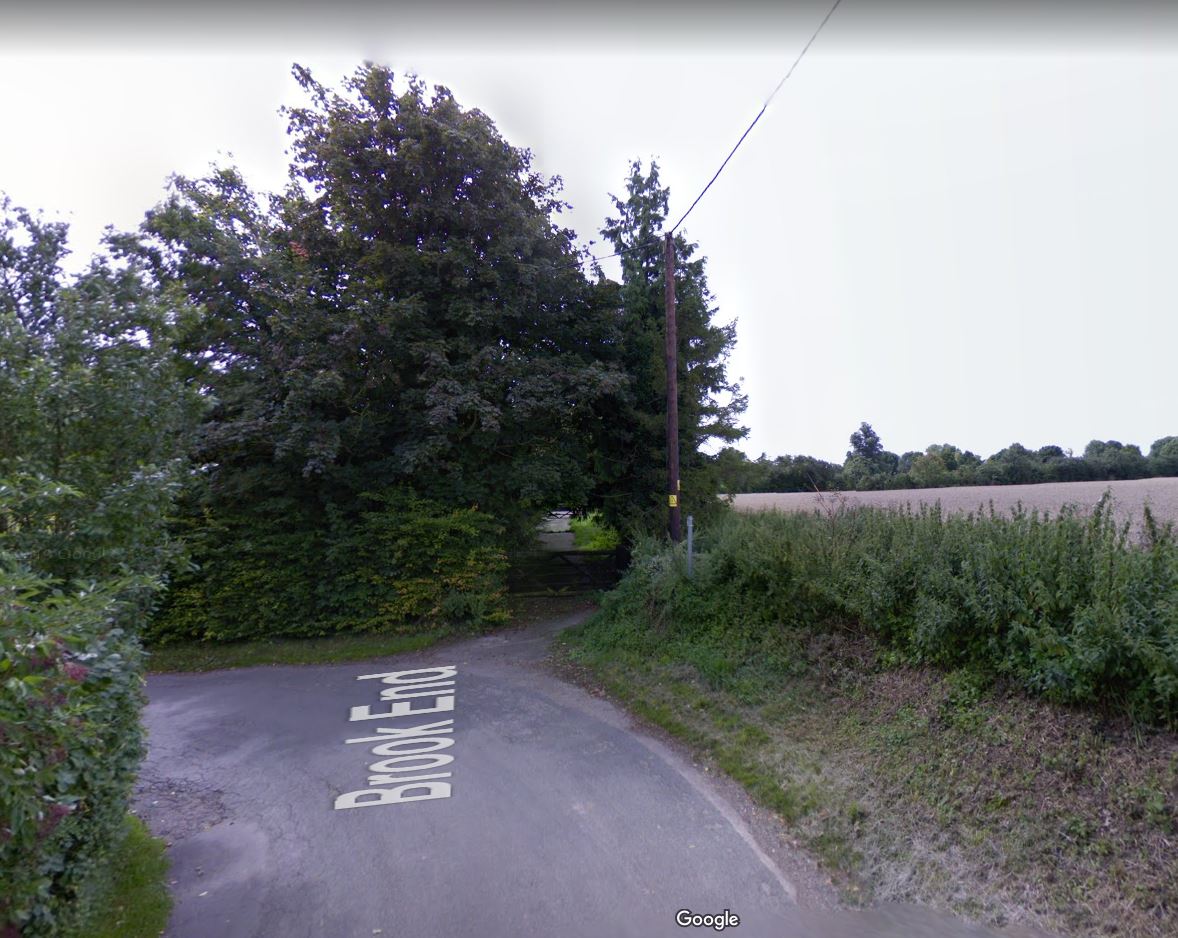 William Theobalds died in 1869 and his executors, his sons, put the Brook End house and land up for sale at auction. It would appear that John Franklin bought the estate, as he and Mary Ann remained in situ.
Even with only 12 acres, farming would have been in the traditional manner of corn and other crops and a few animals, however, things were about to change. In 1870 there began an agricultural depression, which was to be the deepest and longest ever experienced. It resulted in farmers and ultimately landlords becoming insolvent. With echos of modern times the answer was to diversify and traditional crops were replaced with fruit trees and horticultural crops, which produce could be whisked off to the London wholesale markets, notably Covent Garden, on the trains from Ashwell, where freight was an important part of the operation.
John Franklin's Steeple Morden journey can be charted thus. In the 1871 Census he considered himself a dealer, although he did not say in what. However, in the 1879 Trade Directory he is listed as poultry dealer. By 1881 he was a farmer with 64 acres employing 2 labs and 2 boys and continued as farmer in the 1891 Census. In the Trade Directories 1883-1900 his trade is given as farmer and in the 1904 Directory as fruit grower. In the 1901 Census he had become a market gardener and in the 1911 Census John age 70 with wife Mary Ann age 87, daughter Mary Ann age 45 and son William age 43 are all bracketed together with occupation given as market gardeners working as J Franklin & Son.
Fordham's Brewery of Ashwell, built a couple of pubs and some shops and houses (named Odsey Villas) in Haringey, London in 1895. They supplied several pubs in north London by rail from Ashwell Station. William with sisters Ruth and Mary Ann went off to London and rented two shops as greengrocers from Fordhams at 46 Wightman Road (where they lived above the shop, as recorded in 1901 Census below) and 42 Quernmore Road. The shops took produce from father John and other growers back in Steeple Morden, who would have used the railway for speedy shipment. By 1905 J Franklin & Son, market gardeners and produce dealers, were standing at the Covent Garden wholesale fruit and vegetable market in London.
John became active in parish life and was a member of The Vestry, which was the forerunner of the Parish Council. When the Parish Council was created in 1894 he became a councillor. Between 1874-1883 he was Clerk of the Steeple Morden Benefit Society. He died in 1917 age 76.
His son William married Beatrice Emily Rule of  Guilden Morden and bought Home Farm, in Cheyney Street, where he died 1922 age just 53.
These are all the Franklin entries from Steeple Morden Parish Registers and are all Burial entries
| | | |
| --- | --- | --- |
| Date | Name | Details |
| 6 Jun 1863 | James Franklin | otp age 63 |
| 24 Jan 1906 | Lizzie Ann Franklin | otp age 39 |
| 7 Mar 1907 | Ruth Franklin | otp age 43 |
| 12 Oct 1915 | Mary Ann Franklin | otp age 91 |
| 9 Jun 1917 | John Franklin | of Brook End, Steeple Morden age 76 |
| 18 Feb 1922 | William Franklin | of Home Farm, Cheyney Street age 53, died 15 Feb |
| 15 Apr 1943 | Beatrice Emily Franklin | nee Rule wid of William Franklin, of Home Farm, Cheyney Street. Died London Free Hospital, Arlesey, Stotfold, Beds. Age 64. Burial cert by Ellen Rule of 24 Park Grove, Derby, sister |
| 3 Feb 1954 | Mary Ann Franklin | of 10 Chatsworth Road, Luton, age 88 |
Census 1841-1911, plus Electoral and Jurors
Newspaper Reports and Sale Particulars
Last Updated on September 1, 2021